E-Flite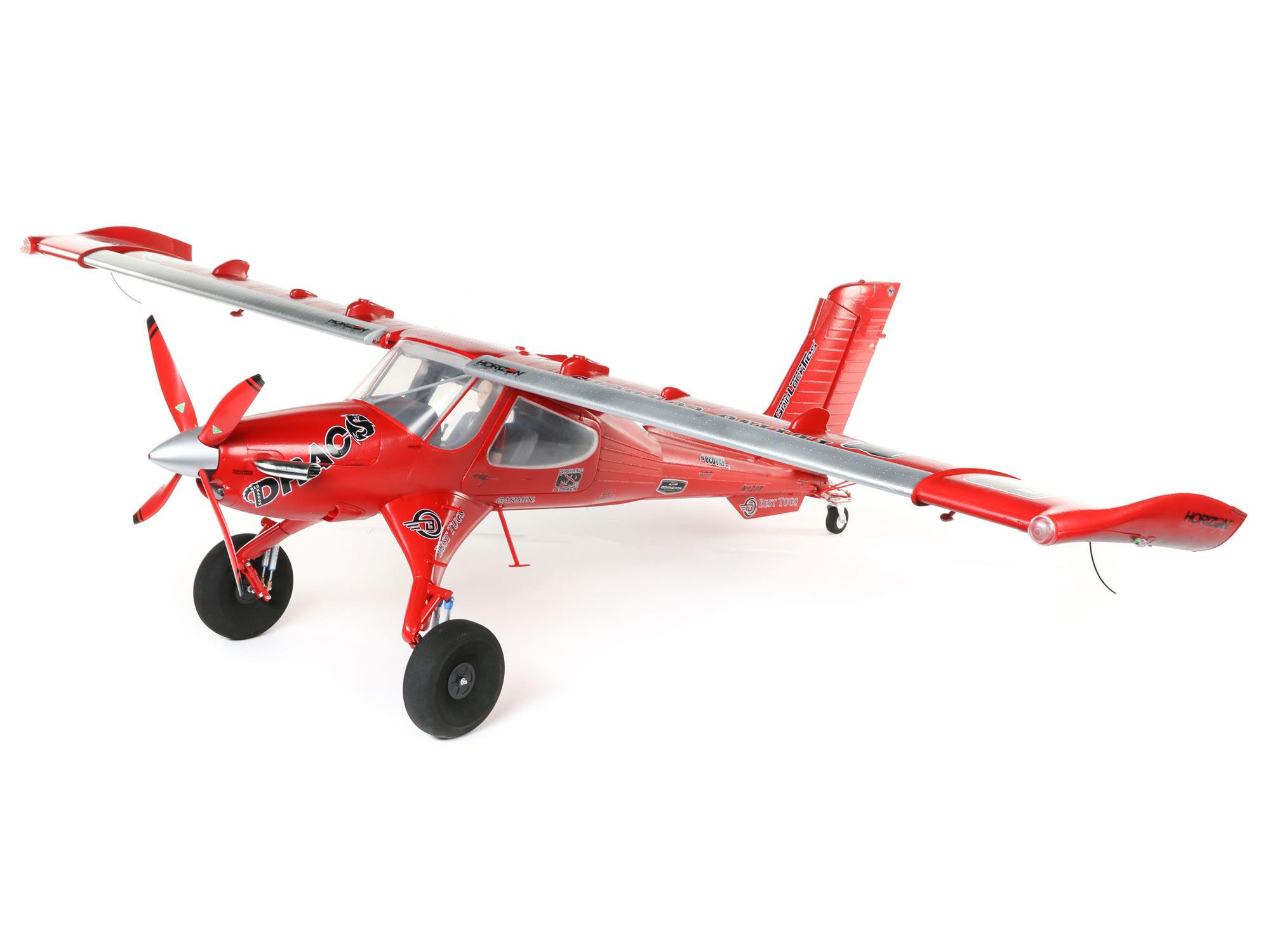 Showing products 1 to 41 of 41
E-Flite P-51D Mustang 1.2m BNF Basic with AS3X and SAFE Select EFL89500 is a well-appointed scale warbird with sporty performance historic WWII 20th Fighter Group trim scheme with high-Power 3-4S LiPo compatible brushless motor and ESC optional-use SAFE Select flight envelope protection stability and precision of AS3X technology.
£299.99
£329.99
When the P-47 Thunderbolt first arrived in the European theater of World War II, its rotund fuselage quickly earned it the nickname "The Jug". It wasn't long, though, before this became short for "Juggernaut". Built like a 400-mph flying tank, it packed the wallop of eight .50 caliber machine guns and carried enough bombs and rockets to wipe a ground target clean off the map.
£299.99
£329.99
The E-flite® Viper 70mm EDF is true-to-form both in its appearance and how it delivers a high-performance jet experience like no other, whether you've flown many jets before or even if it's your first jet model ever. It delivers incredible speed, vertical performance and aerobatic capability while also being easy to take off and land-especially when it's equipped with exclusive AS3X® and SAFE® Select technologies.
£314.99
£329.99
The A-10 Thunderbolt II, affectionately called the "Warthog" due to its aggressive look and unique Close Air Support (CAS) capabilities, is one of the most iconic U.S. Air Force aircraft of all time - valued highly for its excellent maneuverability at low speeds and altitude, and for being an accurate and survivable weapons-delivery platform.
£0.00
£219.99
Grab the sticks to fly the fastest prop-driven E-flite® airplane yet! With 4S 3200–5000mAh batteries and the factory-installed brushless power system, the V1200 reaches up to 100+ MPH in level flight— making it suitable for intermediate pilots with some high-speed flying experience, especially when utilizing the BNF® Basic version's optional-use SAFE® Select technology. Experienced pilots can unleash level-flight top speeds up to 140+ MPH with popular 6S 3200–7000mAh batteries!
£459.99
£509.99
E-flite Ultimate 3D 950mm SMART BNF Basic w/AS3X & SAFE A-EFL16550
Its new power system offers better 3S performance and BALLISTIC power with a 4S battery. Higher-torque and higher-speed metal-geared servos keep you firmly in control with the extra power. It's also equipped with a 60-amp Spektrum™ Avian™ Smart ESC, and the BNF® Basic version is equipped with an AR637TA receiver that offers full-range telemetry including real-time battery voltage, current, temperature and more - along with motor reversing for special ground handling and other capabilities - when using compatible transmitters.
£289.99
£319.99
The E-flite® PT-17 1.1m electric park flyer replicates the most iconic trainer of WWII with exquisite detail and the kind of performance that makes scale flying the way it should be–simple, fun and without compromise. The E-flite PT-17 1.1m has everything you could ask for in a classic biplane. First and foremost is the period-correct 7-cylinder dummy radial engine, complete with intricate ignition and exhaust details. The Navy-inspired trim scheme is highlighted with wing rib and fuselage frame work accented with accessory and panelling detail.
£239.99
£259.99
E-Flite Conscendo Evolution 1.5m BNF Basic A-EFL01650 evolves the design to be the most powerful, capable and fun to fly Conscendo yet! A stronger and stiffer airframe moulded from higher density EPO combines with the more powerful 3S and 4S compatible power system featuring a telemetry-capable ESC to deliver higher speeds and more aerobatic performance — while offering the same smooth sport flying and soaring capabilities the Conscendo has always been known for.
£229.99
£249.99
The E-flite Mini Convergence VTOL (Vertical Takeoff and Landing) is a compact version of its larger counterpart with refined flight control software that makes it even easier to transition between multirotor and airplane flight so you can fly in more places and smaller spaces.
£179.99
£199.99
The E-flite P-39 Airacobra 1.2m is a scale replica of the unconventional fighter that's equipped with functional retractable landing gear and split flaps, plus a 3S and 4S compatible with exclusive AS3X and SAFE Select technologies (included with the BNF® Basic version only)
£304.99
£339.99
The full-scale Extra 300 delivers incredible aerobatic performance that offers virtually unlimited potential, The E-flite® Extra 300 3D 1.3m model delivers unbelievable aerobatic and 3D capabilities while also being easy to fly when equipped with exclusive AS3X® and SAFE® Select technologies (BNF® Basic version only).
£289.99
£319.99
The Deluxe Materials Foam Armour - 250ml S-SE61
£9.99
The E-flite® Cherokee 1.3m scale model is a tribute to the general aviation classic that features realistic scale details including functional navigation lights, flaps, a full-flying stabilator and more, plus 3S and 4S LiPo compatibility and incredible handling any RC pilot can appreciate.
£249.99
£279.99
The E-flite Extra 300 3D 1.3m scale model offers nearly unlimited aerobatic and 3D performance potential–even beyond that of the full-scale design. Its fully-molded EPO airframe is composite reinforced for an outstanding blend of rigidity and durability while also being as lightweight as possible.
£359.99
£399.99
The new E-Flite P-39 1.2m PNP A-EFL9175 With a streamlined design focused on carrying a centerline-mounted cannon to deliver incredible firepower with pinpoint accuracy, and as the first fighter equipped with tricycle landing gear, the Bell Aircraft P-39 Airacobra was both innovative and unique. It was one of the principal American fighters in service when the U.S. entered World War II, and also went on to be used by other Air Forces on various fronts throughout the war.
£289.99
£299.99
Unlike stealth aircraft that take out enemies anonymously or from a distance, the A-10 Warthog is designed to get up close and personal with its targets. Its mere appearance over the battlefield is enough to send most enemy ground forces running for cover, especially if they've ever gotten a taste of its 30mm nose cannon – a weapon so powerful, it can shred through the armour of a tank with a single burst.
£159.99
£169.99
The E-Flite V900 BNF Basic A-EFL7450 high-speed sport airplane is the fastest prop-driven E-flite® airplane yet! Right out of the box it can reach top speeds of 120+ MPH on 4S, and even 100+ MPH on 3S, without the need for upgrades or prop changes. It's designed to whip heads by flying fast and looking good with slick aerodynamics, composite reinforced EPO construction and a vibrant trim scheme that stands out on the ground and in the air.
£242.99
£259.99
Even if you've never flown a radio controlled (RC) airplane before, the HobbyZone® Apprentice® S 2 1.2m is designed to make learning to fly with a more "traditional" trainer easy and fun! It's an updated version of one of our best-selling trainer aircraft.
£309.99
£339.99
The new E-Flite Timber X 1.2m BNF Basic w/ AS3X and SAFE Select EFL3850 has captured the original Timber thrill of incredible Short Takeoff and Landing (STOL) capabilities in a design featuring sporty flight performance and ultra-friendly handling. From low-time to very experienced pilots, nearly everyone enjoys flying the Timber.
£314.99
£349.99
E-Flite Apprentice STS 1.5m RTF Smart Trainer with SAFEA-EFL37000 is based on one of the very best platforms ever designed for learning to fly radio controlled (RC) airplanes-the legendary Apprentice S 15e. That model's large size made it an ideal choice for better visibility and the ability to handle more wind while learning to fly at an RC club flying field.
£379.99
£419.99
The E-Flite Clipped Wing Cub 1.2m PNP A-EFL517 is a stock Cub is a legend for its gentle flying characteristics and abundant availability. Searching for a low-cost basic aerobatics alternative, inspired pilots modified the design into an entirely new aviation sensation.
£161.99
£179.99
The E-Flite Delta Ray One RTF A-EFL9500EU One airplane is the perfect choice for anyone who wants to learn to fly RC. Its compact size, innovative delta wing design and exclusive technologies combine to deliver an airplane that's not only incredibly easy to fly, but is also capable enough to help you succeed and go beyond basic flight.
£159.99
£169.99
The Extra Scale DRACO 2.0m is one of the most detailed and feature-rich E-flite® aircraft to date, and the only officially-licensed model of Mike Patey's ultimate bush plane. It excels at STOL and scale-like flying - and looks amazing while doing both!
£669.99
£729.99
E-flite F4U-4 Corsair 1.2M BNF Basic A-EFL8550 is a full-house park flyer that flies as good as it looks. A big four-blade propeller, functional three-panel flaps, electric 90-degree rotating retracts and muscular outlines are just the highlights of its authentic feature list.
£299.99
£329.99
The E-flite® Maule M-7 1.5m park flyer is an officially licensed tribute to the full-size marvel that includes an abundance of scale detail, rugged landing gear, flaps and an optional-use float set so you can conquer any terrain year-round.
£319.99
£349.99
Central to the aircraft's amazing capabilities are the advanced aerodynamics that shapes its design. In addition to an efficient airfoil, winglets and fins on the fuselage help the model track true in a variety of conditions. Vortex generators near the leading edge of the top of the wing, and just ahead of the elevons on the bottom, enhance slow speed stability and control.
£189.99
£209.99
This one is no exception. Its lightweight construction, long wingspan and efficient aerodynamics give it a wide range of capabilities that includes everything from sport aerobatics to soaring.
£239.99
£259.99
The E-flite® Twin Otter 1.2m is a scale replica that makes the perfect first twin-powered model for intermediate to experienced RC pilots. It's versatile, easy to fly, and is outfitted with functional features that include LED navigation and landing lights, flaps, and optional-use floats.
£304.99
£339.99
Since it began production in 1956, the Cessna 182 has allowed millions of people the world over to claim their share of the sky. At the heart of its popularity are its simple systems and forgiving flight characteristics that make it easy for individuals from all walks of life to realize their dream of flight.
£159.99
The E-Flite UMX F-27 BL BNF Basic A-EFLU4250 Evolution is the fastest prop-driven ultra-micro airplane yet! It's also the first 3S-compatible UMX model and is evolved to deliver more fun with durable EPO construction, AS3X and SAFE Select at a price that can't be beaten!
£89.99
£99.99
Built by the thousands to train pilots for the U.S. Army during WWII, hundreds of the PT-17 biplanes still fly. Many served as crop dusters and were given radial engines that doubled their horsepower.
£113.99
£124.99
The UMX Turbo Timber updates the original design with a modern turboprop-styled nose and 3-blade propeller, plus a higher-power 3400Kv brushless motor.
£179.99
£199.99
E-Flite UMX Yak 54 3D BNF Basic A-EFLU3550 With a flying weight of barely over an ounce (36 grams), the compact UMX Yak 54 3D ultra-micro is small enough and light enough to be flown just about anywhere. But what really sets it apart is its specially tuned AS3X stabilisation system.
£111.99
£124.99
The officially licensed E-flite RV-7 1.1m is the Smartest, most convenient, and easiest to fly scale model of the general aviation icon yet - with capabilities ranging from slow, scale-like flight to high-energy aerobatics and everything in-between!
£274.99
£299.99
Landing Assist Sensor Module (LAS) P-SPMA3180
£36.99
RealFlight 9.5 RC Flight Simulator Software Only A-RFL1201
£91.99
£99.99
RealFlight 9.5 RC Flight Simulator with Spektrum InterLink D A-RFL1200
£187.99
£199.99
Turbo Timber Evolution 1.5m BNF Basic A-EFL105250
The E-flite Turbo Timber Evolution 1.5m is the most convenient, capable, and durable version of the popular STOL-capable model yet. Upgrades including a top-mounted hatch, stronger gear mounts, Smart electronics and more make it better than ever!
£327.99
£359.99
UMX MIG-15 EDF BNF Basic A-EFLU6050 jet fighter entered the stage as a complete surprise, boasting incredible performance and heavy-hitting firepower. Its opposition accepted the challenge in under-classed aircraft with only the advantage of superior tactics. It was an ace pilot's dream scenario.
£144.99
£159.99
Wheel Chock (105x90x20mm) (1Pair/Bag) Foam Wheel Chock For model air craft wheels Will take a 4" wheel 
£4.50